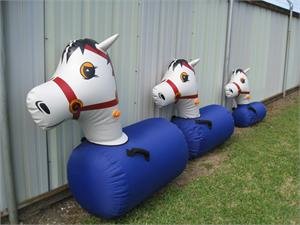 (3) Pony Hops Medium ages 7-12
MEDIUM

Ages 7-12 51" x 46" x 17"
Our most popular interactive fun for...Picnics, Team Building, Fund Raising Promotions & Entertainment. Huge Hit at College Campus, Churches, VBS & Corporate Events. Indoors & Outdoors! A Big Hit on High School Grad Nite. Create your own PonyHop Obstacle Course or race course. Small/Short course is the most fun. BlindFold Riders. negotiate short cone course with a guide providing instructions. Have them pickup objects on the ground as part of the course. Great Team-Building Fun.